The Faith Garden: Dunedin Church Members Launch Down-to-Earth Project to Help the Needy | North County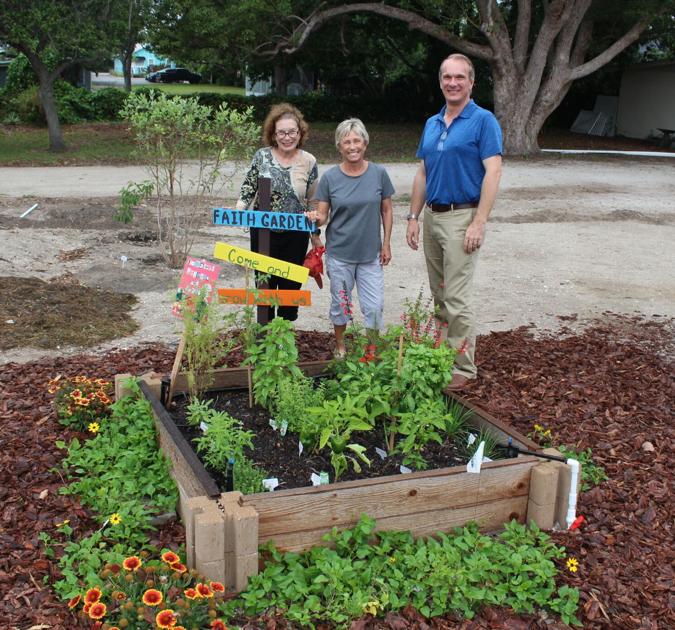 DUNEDIN – Call it growing pains. A group of volunteers learn how to manage the Faith Garden at the First Presbyterian Church to help provide food for the community.
Jodie Cannon is a member of a mission team for the garden.
"There are six of us based on that. We organize teams, church members to come and weed, harvest, plant – set up a bin for the compost," she said.
The group started the project about three months ago and needs about six to eight months before they are ready to start harvesting.
Another church member, Brenda Thomas, said the project began with the demolition of the old education building on the west side of the First Presbyterian property, which is located at 455 Scotland St.
It was January, said Thomas, who has been affiliated with the church for five years.
"When it came down, I just realized that when I saw this space, I said, 'It would be a perfect place for a garden,' Thomas said." I have always felt that this is an area where we can help feed the hungry around us. "
Cannon, who has been with the church for 11 years, said the project was a learning experience.
"It was really exciting. We had to learn what can push, what can't push. That sort of thing," Cannon said.
The most difficult aspect of the project was making sure there was enough water for the plants, Cannon said.
"The new irrigation system was everything," she says.
Shading barriers will also be put in place to diffuse UV rays. The church team also had to specify the mission in order to secure the necessary grants, Cannon said.
"It was writing the grant. Brenda is just a genius at that," Cannon said.
Thomas felt that by working with the food banks, the team realized that the need for food did not decrease significantly.
They also felt there was a need to provide better quality products to food bank customers.
"What they get in most food drives is just canned, processed foods filled with sodium, filled with a lot of stuff," Thomas said. "These are not the healthiest diets for those in need. And the problem for a lot of people is that they either live in a place where they can't get to a good produce stand or they can't afford the type of fresh produce. , organic, "she says.
Church pastor Reverend David Shelor is also excited about Faith Garden.
Growing fresh produce for those in need, especially through the Dunedin Cares Food Bank, is in itself a great gift, he said.
"The other thing, too, I think we hope we can involve our neighborhood or the community as a whole with the effort. I am a firm supporter of whatever your faith and religious tradition, and even if you do have one. , I think digging in the dirt and connecting to God's good creation is a spiritual practice, "Shelor said.
People can adopt a bed and maintain it too, he said.
The mission team has access to coaching from organizations in St. Petersburg that have successfully completed this type of project.
"They're all over town in the backyards," Cannon said. "We also want to be an educational center."
Among other ideas, the mission team plans to put herbs in freezer bags along with recipes.
"We really want to be 360. We want to go around this thing, make it a community and a member," she said.
Squash, beans, turnips and corn are expected to be grown in the garden along with other vegetables.
"We also install pollinators so bees and butterflies can enter and they can control any type of pest that enters. This is our first opportunity to do so. And we didn't hesitate a minute to grab it. Cannon said.