Sharing Jesus is a badge of honor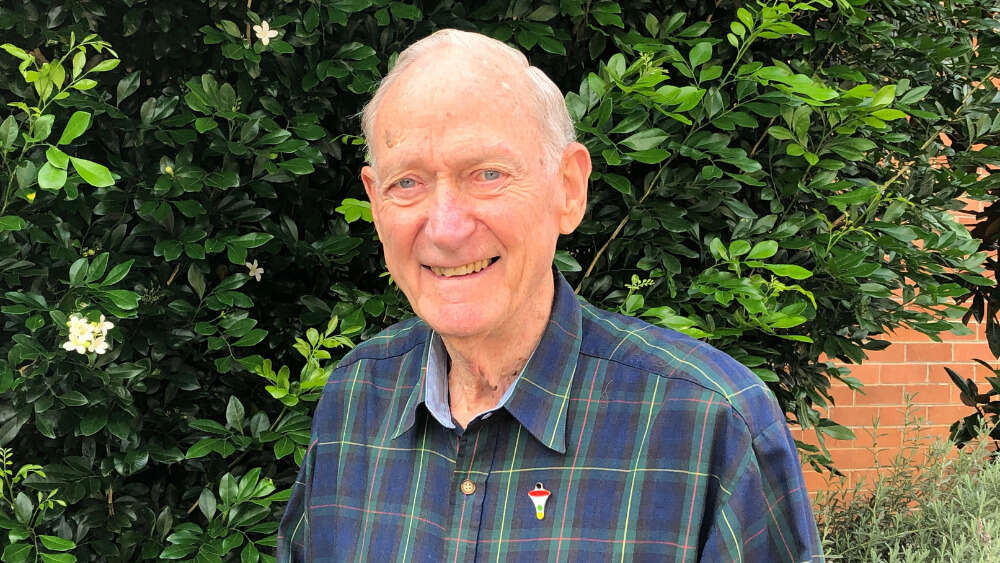 Evangelism is a full-time job for 84-year-old Ken Deck. Since becoming a Christian 23 years ago at the age of 61, he has devoted his waking hours to praying for revival, prison ministry, teaching the scriptures and trying unique ways to share the gospel.
"I always thought I was a Christian," begins Ken, explaining his conversion story to Eternity. "I knew Jesus and went to church when I was young. I have very strong Christian parents, so there is a lot of Christianity in my family background.
But when he turned 60, life events caused Ken to re-examine his faith. He was the victim of an act of fraud and at the same time his wife, Helen, was very ill with cancer.
"I was depressed and had lost faith in the man," admits Ken. "So my wife suggested that we start going to church regularly because there I could find answers to all my questions about life."
Ken and Helen began attending the local church in their suburb of North Shore Sydney, which they had previously only visited at Christmas and Easter.
"During a service there one day I realized that I was not a Christian and that I had to make a decision to follow God," Ken says.
"Since that day, my life has changed from being a self-centered man to working for [God]." –Ken Deck
Following this decision, Ken asked to be baptized and, a week later, confirmed before the congregation.
"Since that day, my life has changed from being a self-centered man to working for [God]", explains Ken.
"The first thing I did was volunteer to clean the church kitchen."
Soon after, Ken was approached to help teach the scriptures at a local public school.
"Someone once told me that if you want to learn a subject, the best way to do that is to become a teacher because then you have to study it," says Ken. "So I took up teaching the scriptures and did that for about 16 years.
"The Lord has called me in so many different areas. I can talk for hours about how he involved me in other things! he adds.
"I became a leader at the beach mission. And I have been attending Kairos prison ministry for almost 20 years.
Shortly after Ken gave his life to Christ, Helen's health deteriorated. She died in 2001, two years after she and Ken made a commitment to regular church attendance.
"I thought, what's an easy way to start a conversation with someone that would make it easier to share the gospel? –Ken Deck
Over the next few years, Ken continued to deepen his commitment to sharing the gospel. Then, unexpectedly, seven years after Helen's death, God brought another Christian woman into his life – Sallyanne. Sallyanne's husband had also died, she had no children and her original family lived abroad. "She was pretty lonely," Ken said.
While Sallyanne attended a different church (from where she also served as a scripture teacher), mutual friends arranged for them to meet.
"We met at a reception and the love blossomed. But we agreed that even though we both loved each other, our love for Jesus was stronger," Ken says.
Ken and Sallyanne were married 13 years ago in 2009. Ken describes their marriage as "a fantastic journey" during which the couple also engaged in prayer.
They lead a weekly prayer group in their local church. And for ten years, Ken has been praying for revival with a men's prayer group. The group – made up of men from many churches in Sydney's Upper North Shore – meets at their home fortnightly.
Alongside these groups, Ken says, during his "personal time with the Lord" he spent a lot of time thinking about "how we can get revival across Australia."
"I thought, what's an easy way to start a conversation with someone that would make it easier to share the gospel? he explains.
"And then I thought, I can make a nice little badge."
"We are all called to share the good news." –Ken Deck
When designing the badge, Ken was inspired by the "salvation bracelet" often used as a church craft activity – where each different colored bead represents a part of the "salvation story".
He had a few samples of different badges made before settling on a design.
"The first time I wore it, I had two ladies comment on it on different occasions. One of them said, 'Oh, what a lovely little badge. What it is?' And I got to share the gospel. And another said, "That's a beautiful badge," Ken recalls.
"So after those comments, and the fact that it certainly made it easier to spread the gospel message, I decided to do a lot."
He lists more recent incidents where the badge sparked conversations and the opportunity to share the gospel.
"Each time you do it, it becomes more and more natural. It's something that gives the opportunity to share the good news," enthuses Ken.
To make it easier for badge wearers, Ken has designed a small companion pamphlet that explains how each color of the badge relates to the journey of salvation and offers wearers some next steps if their listener wants to commit to Christ.
"It's just not something pleasant to wear. You have to show compassion to those in need and understand the benefits of sharing the gospel with people," Ken says sincerely.
When asked why he is so passionate about this business, Ken replies, "We are not called to be crusaders. We are not called to be evangelists, but we are all called to share the good news. It is our vocation.
And he is confident that this small badge could lead to big things for the kingdom of God – maybe even a revival.
"I can see it taking off – it could take years, but I'm sure I'll get 100,000 copies printed in the next couple of years," he says, adding, "I can't take any kudos on this. Everything was the work of God because he led me.