Ruth LaCroix | Death notice | iwantthenews.com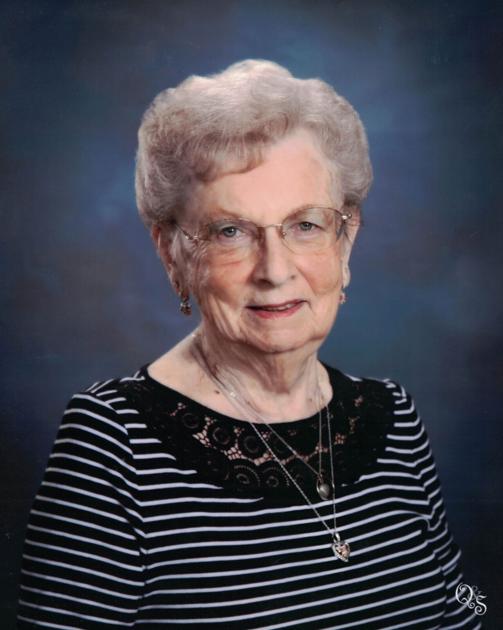 Ruth A. LaCroix, 92, of Sheboygan and former Cleveland resident, passed away peacefully surrounded by her family on Wednesday, October 13, 2021 at Terrace Place in Sheboygan.
Ruth was born on July 24, 1929 in Cleveland to Ray and Agnes (Schwinn) Gries.
On November 25, 1948, Ruth was married to Marvin LaCroix at St. Wendel Catholic Church in Cleveland. Together, they raised three children, Jim, Michele and Lori.
Ruth held many jobs during her life and retired from Tecumseh Products in New Holstein after 30 years.
Ruth had volunteered at the Manitowoc Civic Center for 13 years, also inaugurating the Weill Center. Ruth very much enjoyed the Schwinn Family Cousins ​​Breakfast Club. She enjoyed camping with her family, playing cards, crafts and pottery. Ruth and Marvin both belonged to the Melody Dancers and the Anniversary Club for over 50 years. Ruth was a member of the Cleveland Red Hat Society. She was a member of the Cleveland Senior Center and had belonged to St. Wendel Catholic Church until the church closed. She then became a member of St. John Evangelist Catholic Church in Kohler. Ruth loved her family and was very proud of her children, grandchildren and great grandchildren.
Ruth is survived by one son, Jim (Millie) La Croix of Sheboygan; one daughter, Michele (Stan) Scharenbroch of Sheboygan; son-in-law Dan Fosdick of Lake Mills; seven grandchildren, Jen (Matt) Powers, Jeff (fiancee Karli Hinton) La Croix, Eric (Allison) Scharenbroch, Gina (Bill) Heitzmann, Scott (Rheanna) Scharenbroch, Nathan and Garrett Fosdick; five great-grandchildren, Shannon Powers, Alec Scharenbroch, Sydney and Haley Heitzmann and Phoenix Scharenbroch; brothers Harold (special friend Pam Del Duca) Gries and Bill (Jean) Gries; sister Betty (Nick) Rieth; and other relatives and friends.
Ruth was predeceased by her husband, Marvin LaCroix; daughter Lori LaCroix; parents Ray and Agnes (Schwinn) Gries; one brother, Richard (Elaine) Gries; stepfather and stepmother Paul and Mathilda "Tilly" (Kautzer); one brother-in-law, Hugo (Hélène) La Croix; and two sisters-in-law, Mildred (Alvin) Modra and Veronica "Frohnie" Williams.
A Memorial Mass will be celebrated for Ruth on Tuesday October 19 at noon at St. John Evangelist Catholic Church, 600 Greentree Rd. In Kohler. The Reverend Robert Lotz will be the celebrant. The entombment will take place in the Knollwood Mausoleum, town of Kussuth. Friends can attend church on Tuesdays from 10 a.m. until mass.
In lieu of flowers, a memorial fund will be created at the Cystic Fibrosis Foundation in honor of Ruth's great-grandson.
Ruth's family would like to sincerely thank the staff at Terrace Place and Compassus Hospice for the wonderful care they provided to Ruth.
If you would like to leave a sympathy message for the family, please visit www.zimmerfuneralhome.com.
"When I was born, everyone was happy and smiling; I was the only one to cry.
When I died everyone was sad and crying; I was the only one happy and smiling.