Our pro-life advocacy should not be limited by tribal loyalties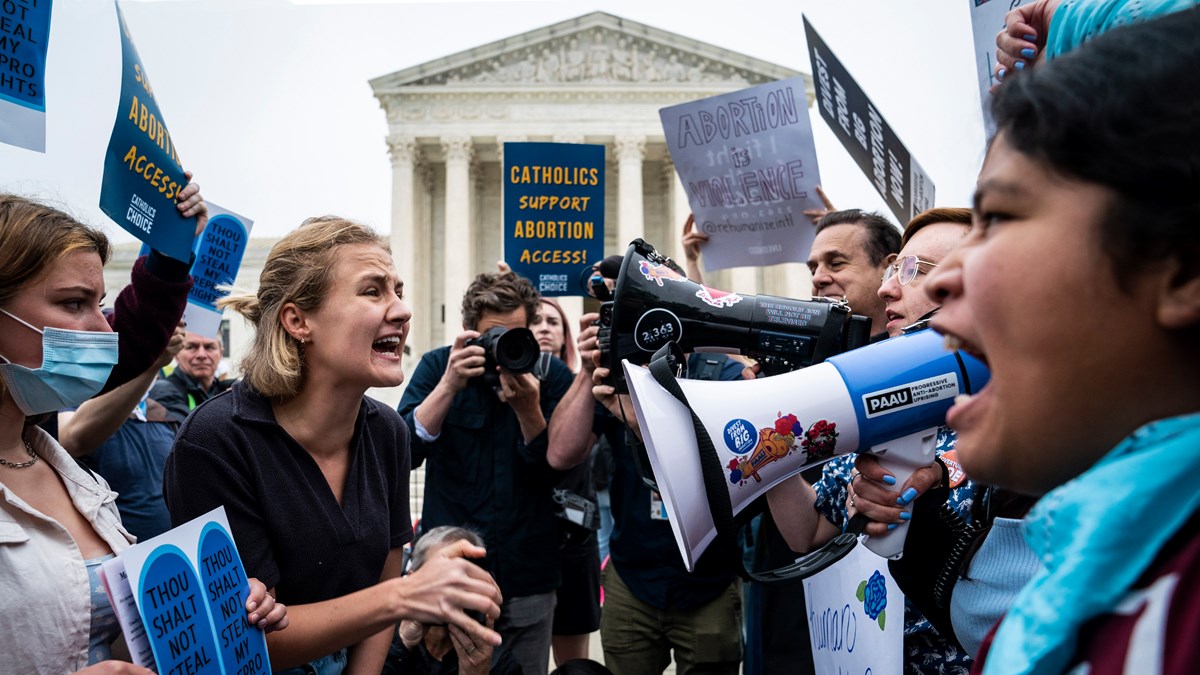 This article was adapted from Russell Moore's newsletter. Subscribe here.
From all indications, the Supreme Court appears poised to overturn the nearly 50-year-old precedent enshrining legal abortion as a constitutional right. As expected, this does not please those who support Roe vs. Wade (which is a large chunk of the country, according to most polls).
Some suggest this is a manifestation of some kind of soft theocracy – that those of us who are pro-life are now imposing our religious views on the rest of the country. For others, the accusation is not that pro-life Americans are too engrossed in abortion, but that abortion is just a hobbyhorse for the real issues, which are white supremacy and Christian nationalism.
The first argument is one that goes back almost to the time of deer herself: the idea is that most people who oppose abortion do so because of a religious commitment. Sure, there might be an atheist pro-lifer here or there, depending on the argument, but most of the people who participate in the March for Life or who work at the crisis pregnancy center near you are Catholics. Romans, Evangelical Protestants or, sometimes, Orthodox Jews.
According to this reasoning, to oppose legal abortion is to impose a certain religious point of view on other people, and thus violate the religious freedom of those who do not believe that the fetus is a human person.
This would be true, of course, if what one sought to do was to impose a religious dogma. This is why I oppose, for example, public school teachers offering an invitation to the gospel at the end of a class period or city governments declaring the Trinity to be the truth. A religion cannot and should not be coerced.
I believe in religious freedom for all – Jews, Muslims, Wiccans, atheists, my fellow evangelical Christians, etc. – because I believe in the founding principles of this country. But I also believe it because I believe, based on biblical revelation, that the gospel must be received by faith, not by force.
I care about not coercing people into accepting my religious doctrines, not only because I think it's obviously bad for society, but because I think it confuses the gospel and hurts the church. But that doesn't mean that religious motivations shouldn't inform Christians, or others, of what interests them.
There are all sorts of issues that could concern us today. The question is always Why someone is motivated to pay attention to some of them. In my community, working with Afghan refugees, helping them resettle, find work and support their families, is done by people with multiple different motivations.
A person might be, like me, an evangelical Christian who believes that because my story in Christ includes the flight of Pharaoh and Herod, I need to care about people in a place of similar vulnerability. Someone else might care about these refugees because she was a refugee from Cuba a generation ago and feels a kinship with those who suffer in this way.
A person could be a veteran of the war in Afghanistan who saw the humanity of Afghans suffer under the Taliban regime and therefore wants to help them. Someone else might find President Joe Biden politically offensive and is motivated by blaming the administration for the suffering after he left the country.
Each of us serves refugees for very different motivations, motivations that we don't often share with each other. It tells you why each of us is moved to action, but it doesn't tell you whether the action is right or wrong.
In some places, laws are being drafted to criminally charge homeless people for sleeping in public parks. The person who opposes it because they realize they can't abuse the homeless when Jesus himself was homeless—is he forcing his religion on everyone? No. He tells you why he is motivated to care about certain human beings.
His religion dictates his responsibilities to the homeless neighbor before him – and the notion that they are human beings is not a specifically religious teaching. The fact that the Quran tells Muslims to look after the poor does not make homeless shelters the culmination of Sharia. The fact that the Bible tells Christians to look after "widows and orphans in their distress" (James 1:27) does not make foster family safety nets a sign of theocracy.
The second accusation often made – that the pro-life issue is really about white supremacy – is plausible to many people right now. It is because we have seen terrible realities revealed in the church and in the world over the past few years, which I have written about many times.
Christian nationalism is real. It is a threat to the testimony of the church, and it is a repudiation of the gospel of Jesus Christ. And, yes, we have seen the pro-life question sometimes used by people whose views – on women, refugees, people with disabilities and other vulnerable people – in no way reflect a pro-life holistic view. life with any integrity or consistency. .
In his bookBad Faith: Race and the Rise of the Religious Righthistorian Randall Balmer opposes the idea that Roe vs. Wade mobilized evangelicals into political action, saying it was a myth. Balmer argues that the motivating factor was, in fact, the backlash of religious conservatives against Carter administration moves to remove tax exemptions from racist all-white "segregation academies" run by religious groups.
Balmer is not the only one to plead this cause.
Nearly 30 years ago, historian Godfrey Hodgson quoted Reverend Ed Dobson, a key lieutenant of Jerry Falwell Sr., as saying, "The new religious right did not start out of concern about the 'abortion. I sat in the smoke-free back room with the moral majority, and frankly, I don't recall abortion ever being mentioned as a reason why we should do anything.
Over the past few years, a lot has come to light. We have seen many moral causes championed by later Christian leaders who did not seem to care about these things, but only wanted the power that these issues could bring with them. It can be disorienting.
Maybe you watched a pastor preach on evangelism and now you find out he was just trying to amass numbers for his own personal empire. But does this cynical use of the Great Commission mean that the Great Commission is a lie?
Using the call to evangelism was tricky precisely because this pastor was exploiting something real for false purposes. This does not mean that everyone who has witnessed door to door or found the courage to speak faith with their neighbors is driven by ego and power.
Even with the most cynical point of view possible, the question is not whether certain leaders resorted to abortion when their real objectives were rather contradictory, immoral things. The question is, if so, Why focus on abortion? Why not just mobilize people to protect segregation? You can only engage people with something they really care about.
When you look beyond power brokers and politicians, you can see countless small pro-life ministries across the country, where people sincerely believe in caring for their neighbor's suffering – for the unborn child in danger of death, the pregnant woman in danger of violence or poverty, or the newborn child who needs food or a home.
Are there those who use abortion as a cudgel to say, "If you don't vote for otherwise objectionable candidates or policies, you are guilty of murder?" Yes. And are there pro-choice employers pressuring women to have abortions because they refuse to provide support and benefits to women with young children? Sure. Does either case negate the central question? Are there people who support democracy because that's how they can get votes for office? Yes. Does that mean that's all democracy is? No.
Don't let your allies determine who your neighbor is.
Once, when I was organizing an event on human dignity from the belly to the grave, someone told me that they would participate, but only if I promised not to mention race, refugees or migrant children . He said it was because he thought "pro-life" only applied to abortion.
I asked if we could also talk about adoption and foster care. He said yes. I asked if we could talk about the harm of euthanasia. He said yes. About the sexual exploitation of women and girls? Yes. About genetic engineering and other bioethical issues? Yes. I realized he didn't want to mention anything about race or migrants or refugees because it would get him in trouble with his political allies.
I've been asked to make certain people invisible because acknowledging their presence would be awkward for someone with power. But to me, it sounded exactly like abortion culture, and I refused to avoid talking about these "troublesome" people.
I've seen it work the other way too. People will work diligently on issues of migrants, refugees, trafficked persons or the poor, but who will blanch at the mention of the unborn – not because they don't believe that the unborn are people deserving of protection, but because it would put them in danger. a camp with people they don't like or respect.
Either way, Jesus told us that defining our neighbors according to the expectations of our tribal allies can only lead to no good. This is why Jesus chose a Samaritan as a neighbor in his parable about the man near the road to Jericho. This is also why Jesus didn't care that his fellow Jews thought he shouldn't talk to Zacchaeus because he was a tax collector who collaborated with Rome (Luke 19:1-10). Jesus cared about Zacchaeus, not his tribal position.
And neither do we.
If unborn children are created in the image of God, and I believe they are, let's take care of them. If women are in the image of God, and I believe they are, let's take care of them. If white supremacy and Christian nationalism are of the devil – and I believe they are – let's oppose them.
Let's be pro-life even if it makes some of our "pro-justice" allies uncomfortable and let's be pro-justice even if it makes some of our "pro-life" allies uncomfortable. And every time our group tells us that the price of admission is to make another class of people invisible to us, then let's tell them the price is too high.
Russell Moore directs the Public Theology Project at Christianity today.