Official website of the Assemblies of God (USA)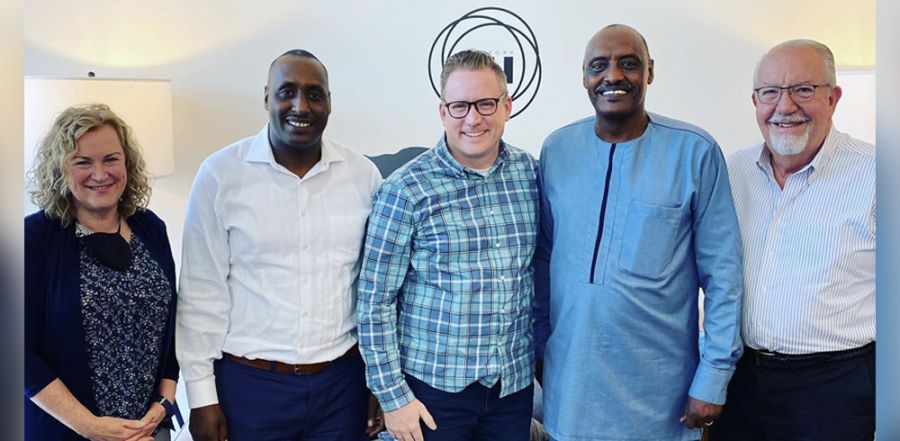 Don't miss any story. Follow AG news!
Government and humanitarian agencies provide assistance to immigrants and refugees settling after arriving in the United States, while faith groups share both practical help and Christian compassion.
Many newcomers are already Christians, including pastors who hope to continue serving in their new homelands. This is where cross-cultural ministry missionaries from American missions like Julie K. Kraus come in.
In 2007, Paul and Julie Kraus answered God's call to serve the growing foreign populations and unreached people groups in New York. Previously, they served 20 years as Assemblies of God global missionaries in West Africa, primarily in French-speaking Ivory Coast, as well as at Global University, where they discovered immigrant pastors in need of support. help to adjust.
New York Ministry Network Superintendent Duane P. Durst wanted to create a welcoming environment for the state's new international residents, and hundreds of ethnic pastors in New York, with AG or similar training, needed help. 'aid. Not all spoke English; many Africans spoke French.
The Krauses were transferred to US missions in 2007 and set to work in New York hosting ethnic leaders' forums and "Who's My Neighbor" seminars focused on unreached people groups in communities; connect pastors; and helping foreign ministers obtain US credentials. Julie taught French at a needy Level 1 high school in Harlem, while Paul, as director of cross-cultural ministries for the network, began to develop the department around three main motivations: to raise awareness of the enormous cross-cultural challenge from New York ; encourage and connect ethnic Christian leaders as partners in meeting the challenge; and resource Christians to effectively evangelize to culturally diverse neighbors.
"To effectively communicate the gospel, we cannot simply be experts in our own culture," says Julie Kraus, 63. "We need to acknowledge our negative biases and find ways to bring cultures together. Understanding the culture is key to building trust and sharing the gospel.
In 2017, Paul Kraus received a medical diagnosis of multiple myeloma. In November 2019, Paul and Julie moved to Illinois to be close to family while Paul was a candidate for CAR T-cell therapy through the University of Chicago. However, he passed away on March 4, 2020.
CONTINUE IN MINISTRY
As Julie navigated pragmatic change and personal grief, she still felt a ministry calling from God. She continued the work in New York, assuming Paul's position as director of the Cross-Cultural Ministries Network. She met ethnic pastors via Zoom even during COVID-19 restrictions. Other American missionaries sometimes joined them, including those who worked with Native American populations in New York.
Despite Paul's illness and death, Julie says God used the move to Chicago to open greater doors of connectivity with French-speaking pastors and churches in Minnesota, Illinois, Indiana, Ohio and other states. After the GA's National Ethnic Relations Office asked Julie to write a welcome letter to a French-speaking Congolese pastor in Minnesota, she connected with other Togolese there.
The Ohio Ministry Network is a partner, as GA leaders in Buckeye State seek to support refugee ministers such as Amon Kajabika in his vision for church planting and ministry training French/Swahili. Kraus is grateful to Durst for his leadership in facilitating connections, the wisdom to see the needs, and the support of efforts to equip other districts.
"The Lord opened the doors wide for Julie to reach these French speakers," says Wayne Huffman, senior director of cross-cultural ministries at US missions. There are potentially hundreds of French-speaking African congregations in the United States, as pastors in several states are eagerly adopting the structured approach to credentialing.
"Some of these pastors are already AG, or they studied in Bible schools started by AG missionaries in Africa," says Huffman. "They crave inclusion and connectivity. And they want to reach their neighborhoods.
While placing an American missionary in every city where such pastors want training would be prohibitively expensive and logistically impossible, Huffman says Zoom calls and the provision of materials in French are paving the way for increased assimilation.
Because Julie's daughter, Emily Stender, lives in Chicago with her family, Kraus remains in Chicago while maintaining ministry in New York. Kraus meets regularly with AG pastors and a larger group of African pastors, and works with Global University's Network School of Ministry and Berean School of the Bible to develop certification training in French. In January 2021, she completed training with the Cultural Intelligence Center to begin facilitating workshops where local church leaders can learn how to build relationships and work with people from different backgrounds.
The opportunity for encounters perfectly illustrates an old African proverb: "If you want to go fast, go alone; if you want to go far, go together. In order to fulfill their calling, however, pastors also need a platform for ministry. Local churches can help by providing space in buildings for ethnic congregations to meet.
CONGOLESE CHURCH PLANTS
Destiny Christian Center in Syracuse, New York, is a church meeting in need. Located on the north side of town, the church's focus on downtown outreach began to expand when the mayor opened the area to refugees. In 2011, looking for ways to help new residents, the church connected with Congolese pastor Emmanuel Seruhugu, who wanted to start serving other Congolese.
Senior Pastor Jeff Stonecipher says the location of the church, a converted funeral home, is well suited to sharing because it has more of a meeting space. The congregation got involved, helping the new arrivals with food, clothing and settling down. A few years later, a Nepalese Baptist pastor, Matan Magar, wanted to connect with a Pentecostal church and also started the ministry of Destiny Christian Center, establishing a congregation called Syracuse Aaradhana Church.
Syracuse Aaradhana Church and African Nation Church of Destiny are kin-affiliated churches and now average 200 people in attendance. They are now helping other refugees and joining awareness-raising activities in the neighborhood. Most African refugees have spent a long time in refugee camps due to civil war in their country and are fully vetted and allowed to work in the United States.
"They are smart, hard-working people, willing to settle down and contribute," says Stonecipher, 53. "When they started they used our van to pick people up, but now most have jobs and own cars." As their children learn English in school, the Congolese have had to adapt their service format and approach to ministry. Before long, they may need their own facilities, even as other Central African groups are developing.
"The goal of cross-cultural ministries is to help believers see their Muslim, Buddhist, Hindu, Sikh and Jewish neighbors as their mission and to equip them to credibly and confidently share their faith," says Kraus. "Jesus' command to go to 'everyone' is more than going to another country, it is our call to cross cultural barriers right here at home."