New life for the Old Church Studio in Toledo | Culture & Leisure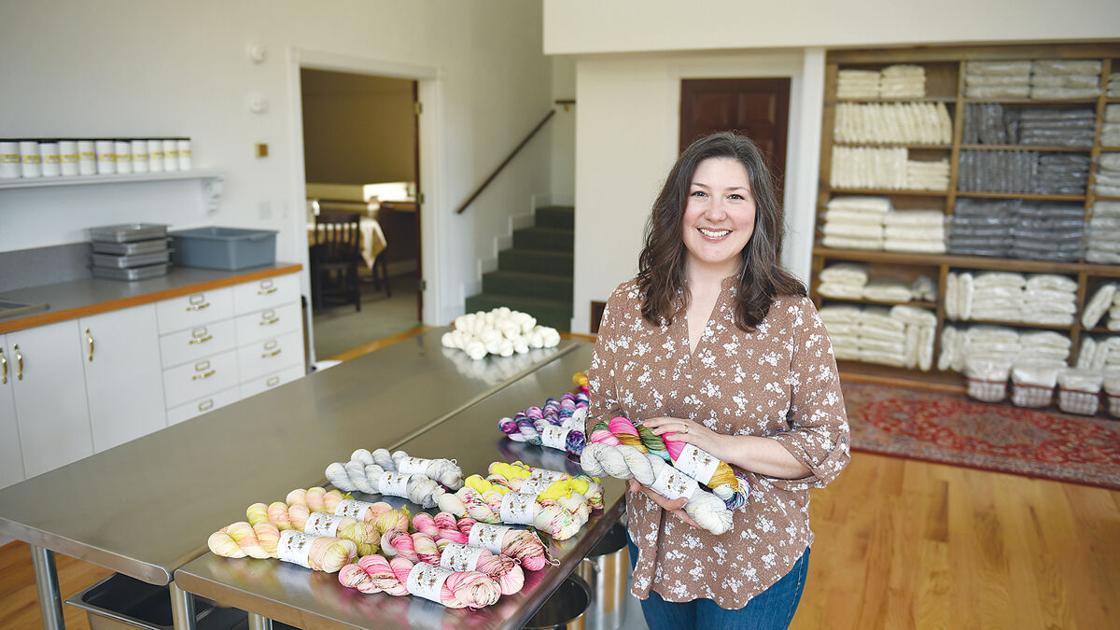 The legacy of the late Michael Gibbons continues in the Toledo Arts District that he and his wife created, with Murray & Co.'s purchase of Wool Goods of the Old Church Studio.
A native of Toledo, Sarah Murray, owner of Murray & Co., purchased the studio on June 1. It will use the ground floor of the old United Methodist Church, built in 1887, as a wool dyeing workshop; her husband, Ken, director of information technology for the Central Lincoln People's Utility District in Newport, plans to use the basement for his leatherworking hobby.
Sarah Murray started dyeing wool in her Toledo kitchen, moved her basement workspace for more space, and eventually expanded into a shed her husband built in their backyard. The old church will give her even more room to continue her craft – hand-dyeing wool for knitting and crochet.
Originally from Toledo, Murray's family moved when she was growing up, but returned in the summer for visits. They eventually settled in Toledo, where she graduated from Toledo High School.
Murray moved several times for her husband's career as a Navy pilot, but 16 years ago they moved to Toledo to be close to their family.
"I started college focusing on art, my love being pencil drawing, especially portraits," Murray said. "Right after we got married, Ken was made an officer in the Navy and we moved to Pensacola, Florida to attend flight school. My dream has always been to be a mother, so I focused on having a family. They now have two daughters in college.
While home-schooling his daughters, Murray continued to be interested in art, whether it be drawing, quilting or knitting. "After I became a mom, I fell in love with the fiber arts," she said. Mostly self-taught, she said her grandmother taught her to knit when she was in third grade.
"I grew up with a clever mom and grandmother who always made us quilts or knitted blankets and slippers for us," she recalls. "I love to create functional and comfortable works of art that my loved ones can appreciate. Now I knit every day. It's really relaxing for me.
When Murray decided to design her own colors for her knitting projects, she learned to dye wool by hand. She does not spin her own thread other than as a hobby, but rather buys her thread ready to be dyed.
Most of Murray's business is mail order from his website and is a vivid example of the power of social media. She started posting on Instagram in 2012 in order to connect her quilt with other members of the creative community. "I have a bit of follow-up there," she said. "Then I started dyeing yarn and sharing what I was doing on Instagram, and people saw it and asked if they could buy the yarn. Now I have clients all over the world who have found me on Instagram – I feel like I got to know people this way.
She also sells her yarn at the Knotty Lamb yarn store in Forest Grove, where she occasionally holds quilt shows.
And with the purchase of the Old Church, she will be able to meet knitters and crocheters in person in her workshop, filled with skeins of yarn dyed in a myriad of colors.
"It will be good for local knitters and crocheters to have a local yarn store and be able to buy locally," she said. "Being able to see and touch wool is so nice when you try to imagine what you are planning to do. You want to crush and smell the wool.
Its dyeing process is simple. She orders wool from wholesalers – "I source ethically raised sheep," she said, noting that some are American, others are South American wool suppliers – and start with skeins of bare and undyed yarn, then pre-soak the yarn in water to prepare it to accept the dye. The wet skein is placed in a saucepan with water and citric acid or vinegar, and the dye is applied. The mixture is then cooked, and the acid and heat binds the dye to the wool fibers. When the dye is set, the wool is cooled, then washed and left to dry.
"Some skeins go through several coats of dye to get the colors I want, and it can take hours," Murray explained. "I buy dyes like a painter would buy paint colors. And then I mix them up. "
From start to finish, the dyeing process takes a few days.
Murray said the studio will be open to the public on "open studio" days, a time when local knitters and crocheters can visit and shop. It can also offer workshops. But both are for the future. At the moment, she is still working on setting up the studio and getting used to its huge space.
"This is going to be fun. Michael Gibbons is up to the task," she said, reflecting on work in the late artist's longtime studio. "I've known Michael and Judy for so many years, and I enjoy it. not only his art, but also what he has done for the neighborhood and other artists.
"Michael was a staple in the neighborhood," she added, noting that she lived around the corner from Gibbons' house and gallery and often stopped to chat while walking her dog. "It's bittersweet – we really miss him, but we are also grateful for the opportunity to create in the studio that he did."
Judy Gibbons is also happy with the sale of the old church to a practicing craftsman. "All of us in the Toledo Arts District welcome Sarah, and I am personally especially excited to have a craft activity in the Old Church Studio," she said. Michael and Judy Gibbons bought the Old Church in 1992 and Michael moved his studio there the following year. A March 1993 News-Times article noted that the purchase was part of the couple's plan to develop the neighborhood into an artistic district, one block above Main Street.
Judy Gibbons explained that she and Michael asked the Oregon Department of Transportation's signage division for signage on Highway 20 for their studio and Bishop's Gallery on Northeast Alder Street. During the compulsory photographs of the road on Northeast First Street from Business Highway 20, state officials visited on several occasions to verify their claim. They were "totally surprised," she said, when they received a sign indicating the new arts district, which now stretches from Northeast Alder Street at Business 20 to Elks Lodge.
Reflecting at the time on his plans for renovating the historic buildings on Northeast Alder Street, Gibbons told this reporter: "My feeling – and I have felt it for years – is that the growth of Oregon, or any culture , requires an influx of artists, of people who have traditionally settled in places that are not very expensive. Toledo is a natural… you don't need to put a gallery in a busy place. It is enough to concentrate the quality of art in one area, and people who are interested in it will want to come and see it.
"Now another art form is going to happen here," Judy Gibbons said of Murray's wool dye. "I am delighted and delighted. It is with great pleasure that I welcome Murray Wool to the Toledo Arts District.
Murray can be contacted at [email protected] His website is murraywoolgoods.com.