Neighborhoods to Nations conference covers all mission work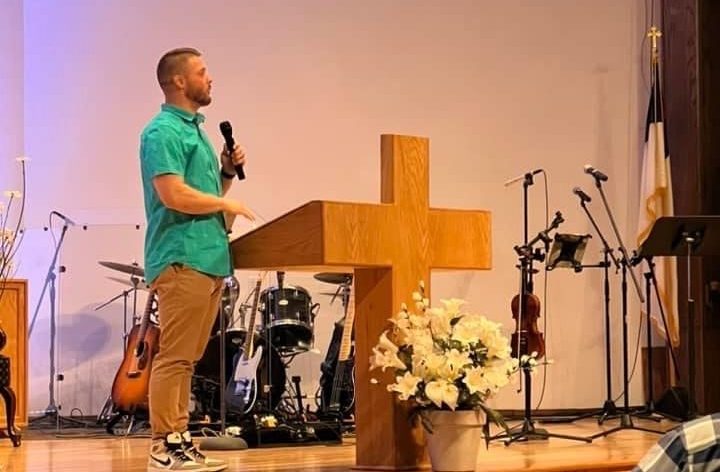 Above: Ty Graham shares his missionary experience in Calgary
PERRY—More than 100 people from churches in five different fellowships attended the Neighborhoods to Nations conference on Saturday, April 2 in Perry, First. Five fellowships (Cimarron, Cherokee Strip, Central, Kay, and Salt Fork) worked with Oklahoma Baptist Regional Ministry Partner Griff Henderson to organize the conference.
Although it is a missionary conference, the event was designed with every church member in mind, since all are witnesses for Christ, whether in neighborhoods or in nations at home. other side of the world.
As Matt Spann, Associative Mission Strategist for the Cherokee Strip Association, explained in the introductory remarks, "'Salvation has come our way to someone else' (quoting Todd Ahrend). You and I know Jesus because someone had the courage to tell us about him.
During the first general session, Elbert Smith, director of the Tom Elliff Center for Missions at Oklahoma Baptist University (OBU), shared a testimony of how mission teams have had a tremendous impact in contexts of overseas by partnering with the International Mission Board (IMB) missionaries and national churches. Keynote speaker Todd Fisher, executive director-treasurer of Oklahoma Baptists, delivered an empowering message from Matthew 20 on servanthood as a key attitude for being on a mission wherever you are.
After the opening session, attendees attended their choice of breakout sessions designed for those just learning about missions to those preparing to lead a missions team or even go overseas for a long time. term as a missionary:
Mission Basics (Elbert Smith)
Missions—Next Door to Next State (Forgotten Ministries)
I feel called to go on a missionary journey—Now what? (Panel: Gaylon Cox, Dale Hamm, Matt Smith)
Sharing the Gospel with Those in Crisis (Ryan Deatherage)
Directing Your Church to a Mission (Tom Elliff)
Developing Missionary Education in Your Church (Amy Cordova)
How to lead a short-term mission trip (Jim Westmoreland)
Opportunities and next steps for service with DGI (Joel Sutton)
Between sessions, participants were able to peruse exhibits from various organizations including IMB, the new Tom Elliff Center for Missions at OBU, Campers on Mission, Disaster Relief, Forgotten Ministries and Hosana Mission (Niger, West Africa). the West).
In the closing session, Ty Graham, youth pastor at Pawnee, First shared his experience as a member of a Cimarron Association missions team that just traveled to Calgary, Canada. Graham spoke of the overwhelming sense of need in an area called Simon's Valley with 50,000 people and no gospel witness.
Graham shared that church planters at the North American Mission Board in Calgary need missionary teams to come "hold the door open" so they can do the "heavy lifting" of building relationships and making evangelization.
In his second message, Fisher spoke of the "before and after" transformation that occurred in Moses' life when you compare Exodus 3 and 14, attributing the dramatic change to his awareness that God would be with him and ultimately be victorious. in all things. . This same awareness should embolden every Baptist in Oklahoma who goes forth on a mission.