Local Church Strives to 'Feed the City' | Local news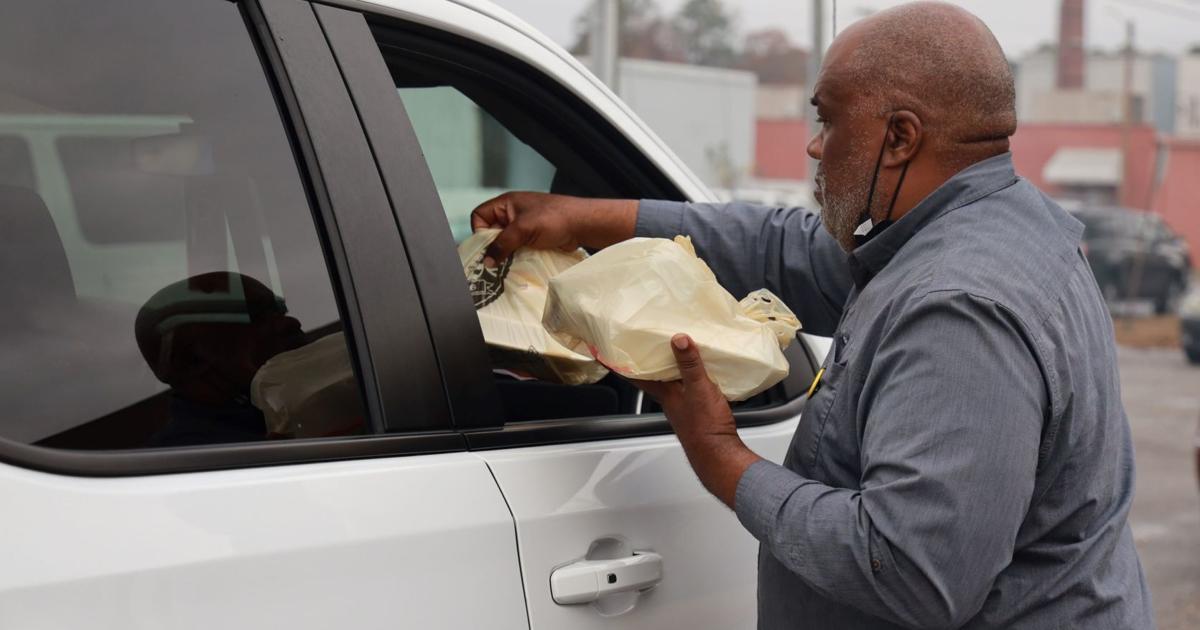 Nine steaming cookers roasted pounds of chicken served with corn, potato salad, green beans, coleslaw, potatoes and bread that fed everyone who came on Saturday during the Mt. Zion First Baptist Church's second annual "Feed the City" event on the corner of Thomas and Pearl Streets.
"It's food for the soul," said Cheryl Scott of Mt. Carmel Church, a volunteer with others from several other area churches including In-Faith Ministries, Word Tabernacle Church and Greater Joy Baptist Church. The Continental Society, an international organization serving youth, was also present.
The Rev. Nehemiah Smith Jr., pastor of Mt. Zion First Baptist Church, said he was in full agreement.
"What I found out last year was that a lot of people came who didn't come for food, but for prayer," Smith said, "so I asked to other churches to come and share the blessings. "
Smith said "Feeding the Town" was the brainchild of Mr. Zion First Baptist Trustee Antonio Williams, who ran a food truck loaned by Don Bullock Chevrolet for the occasion.
"He came to me with the idea two years ago," Smith said, "and asked if we could feed 300. I said no, we will feed 5,000. That was our. target for last year, and we served 4,700 meals. This year the goal was 6,000.
Smith said the effort was made in faith.
Signaling to the lines of people leaving with covered plates, Smith said the goal is not only to feed those who have come, but for each person to bring home a full belly with a plate for someone. one else.
As the tasty-smelling smoke rose from nine stoves, occasionally opening to reveal golden brown roast chicken, Smith smiled with gleeful gratitude and appreciation for all the help that went into making the possible event.
He said JD's Grill loaned three cooks, Al Rhodes and Warren Daughtridge of First Baptist had another, while Antonio Williams of Mount Zion and his son, Laquone Williams, operated a fifth. Keith Staton and Lamont Sanders also cooked, as did Brian and Amanda Briggs, who brought a cooker from Zebulon.
Members of the Rocky Mount Fire Department were also on hand to demonstrate how to cook safely.
Smith credited Conetoe Family Life Center Farm for the donation of the chicken, JD's Grill for the supply of the vegetables, Reser's of Halifax for the potato salad and coleslaw, the Merita Bread Box, Hing-Ta for the donation of fortune cookies, Piggy Wiggly, who donated bags and gift cards to purchase needed items, and Food Lion, who donated boxes of non-perishable food. Mr. and Mrs. Martin, members of Mt. Zion First Baptist, were on hand to donate clothes, which Smith said was also a blessing.
"My goal is to have this happening across town every year on the second Saturday in December," Smith said. "I would love to see every church open to nurture the city and make it a statewide event. "
Smith said the "Feed the City" ministry relates to Mt. Zion First Baptist's motto: "A Church at the Heart of Community, with Community at Heart".
Smith said 2021 was a monumental year for Mt. Zion First Baptist, who he said was able to pay off his mortgage and become "a lender, not a borrower" again.
"Our values ​​have always been to help people and to sow seeds to help people grow," he said.