Joey Rodriguez creates KCMS Records to inspire young people and evangelize the world through music
KCMS Records is the brainchild of Joey Rodriguez, known as "Kcms Rico", who intends to use the platform to reach young people in the United States while harmonizing and rapping about his faith in God.
Fueled by the number of artists and record labels dedicated to promoting it, the age-old music industry is thriving in the United States. With almost every hour spent listening to and creating songs, music has a huge effect on people's way of life. While the ills of society also have a lot to do with the current state of affairs, it is imperative to promote gospel music that positively inspires people and draws their hearts to God.
Joey Rodriguez started KCMS Records, a gospel music label in the United States that intends to preach the good news of Jesus, evangelizing Christ to the world through music. It's a bold move in every sense of the word, and Rico is about to reach every ear and every family with the message of God's redemptive ability and how it helped him become a new man. . Rico was exposed to a difficult life during his formative years, which led him to join gangs and engage in violent and drug-related activities.
"As a young man I had a passion for music and started working on two numark ttx1 turntables," explained Joey Rodriguez. "My passion developed in writing, producing and creating music. However, I made some bad decisions and joined social associations that changed the path of my life to such an extent that I lost sight of the true essence of life. I was a loose cannon waiting to explode. My life was a massive wreck until I found Jesus. He changed my life, redefined it, and gave me life. gave a new essence to live in. This is the message and the foundation on which KCMS Records is built.
Transformed and regenerated by the Blood of Jesus Christ, Rico wishes to spread the message of Jesus through music. Rico has a special interest in young people as he seeks to help them avoid gangs and violent lifestyles. Through gospel hip-hop and music in general, Rico seeks to redirect his attention to Jesus, establishing his faith in the One, True God.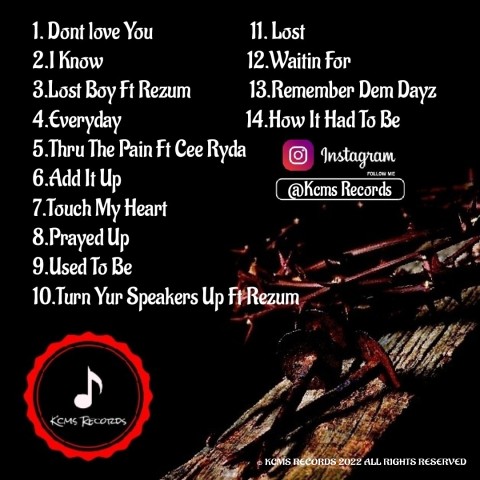 Under the KCMS Records label, Rico released his first album titled Regeneration. The album contains 14 tracks, each telling Rico's story of rising out of a life of crime and violence and finding God. He raps about Jesus and how he wants to spread God's message through his music, reaching out to young people and gang members.
To stream KCMS Rico's Regeneration and other songs under KCMS Records, please visit https://musics.link/kcmsrecords. For more information, send an email to [email protected] or connect with KCMS Records via Instagram and Facebook.
Media Contact
Company Name: KCMS records
Contact: Joey Rodriguez
E-mail: Send an email
The country: United States
Website: https://musics.link/kcmsrecords