Governor Cox Signs Historic Education Funding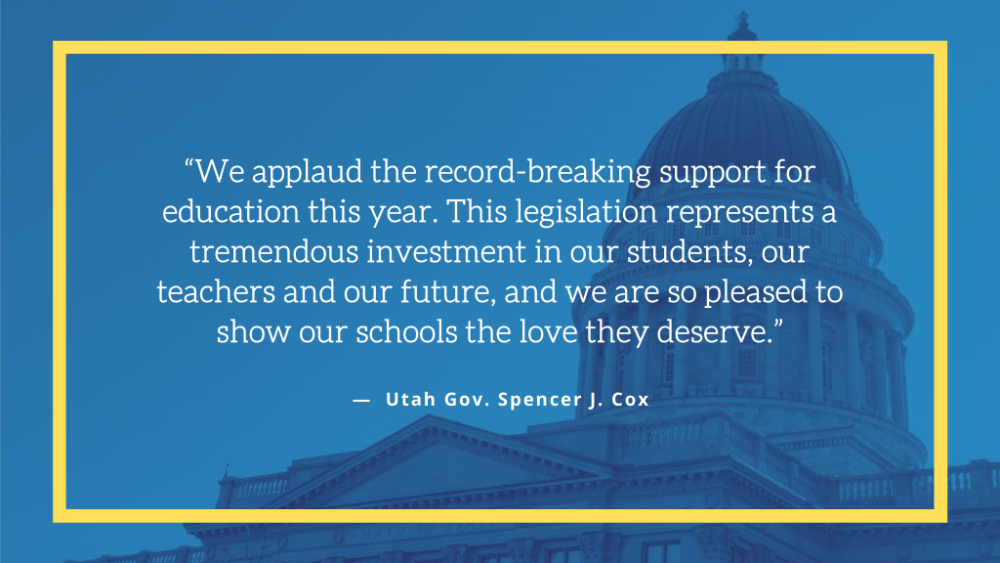 SALT LAKE CITY (March 24, 2022) – Governor Spencer J. Cox signed 78 bills into law today and allowed one bill to become law without his signature. This brings the total number of signed, vetoed and unsigned pieces of legislation from the 2022 general legislative session to 499.
SB 2, which sets the education budget, includes a 6% increase for the Weighted Pupil Unit (WPU), sets the estimated base levy rate, and allocates new funds for various education purposes public, including the following notable items:
$10 million one-time bonuses of $100 for teachers who accepted additional assignments;
$8.7 million for the Teacher and Student Success Program;
$8.6 million one-time base funding for small districts and charter schools;
$8 million one-time for the K-12 IT initiative;
$4 million for updating the calculation of the WPU supplement for special education; and
$3.5 million for scaling up teen centers to support homeless students.
"We applaud the record support for education this year," Governor Cox said. "This legislation represents a tremendous investment in our students, our teachers and our future, and we are delighted to show our schools the love they deserve."
Below is information about other bills signed today.
HB3: Credit adjustments
HB8: State Agency Fee Rate and Internal Service Fund Authorization and Credits
HB33: Changes to reserved water flow
HB191: Changes to Revenue Obligations and Fixed Assets
HB193: Full-time kindergarten
HB293: Land Ambulance Inter-Facility Transport License
HB294: Charter School Admissions Amendments
HB301: Amendments relating to drug dispensers
HB302: Changes to Educational Language Services
HB303: Local Land Use Changes
HB318: Dental Provider Malpractice Amendments
HB320: Declaration of guardianship rights
HB321: Restitution changes
HB323: Transitional Room Tax Changes
HB326: State Innovation Changes
HB 333: Economic Development and Workforce Changes
HB350: State Historic Preservation Office Modifications
HB369: Medical Group Government Immunity Changes
HB373: Tourism and Convention Business Assessment Area Act
HB374: Sensitive materials in schools
HB389: Nursing Curriculum Modifications
HB390: Concurrent and Early College Enrollment Program Changes
HB392: Changes to Delisting Fees
HB394: Recycling Transparency Changes
HB396: Paid Professional Hours for Educators
HB412: Probation and Parole Employment Incentive Program
HB419: Changes to audit committee powers
HB441: Community paramedical modifications
HB456: Digital User Asset Payment Changes
HB462: Housing Affordability Changes in Utah
HB475: Use of one-time funding from the Public Education Stabilization Account
HB481: Changes to Education Reports
UNHCR4: Concurrent resolution calling for the protection of archaeological sites
UNHCR15: Concurrent resolution condemning anti-Semitism
UNHCR16: Concurrent Resolution Recognizing Student-Athletes' Right to Freedom of Religion and Modesty
UNHCR17: Simultaneous Resolution Supporting Utah's Economic and Cultural Relations with Taiwan
SB2: Amendments to the Public Education Budget
SB3: Additional appropriations for the current fiscal year
SB8: State Agency and Higher Education Compensation Credits
SB14: Purchases of alcoholic beverages by consumers
SB16: Licensing Changes
SB21: Extension of the end of the mandate of the school standards review committee
SB43: Business and Professional Licensing Changes
SB44: Amendments to the Mental Health Professional Practice Act
SB60: Agreements to Provide State Services
SB80: Changes to Real Property Registration
SB82: State Facility Management Changes
SB92: Project Entity Oversight Changes
SB95: Limitations of Employer Liability
SB97: Amendments relating to solid and hazardous waste
SB100: Changes to Paid Leave
SB111: Permanent Community Impact Fund Board Amendments
SB115: Firearm Pre-emption Changes
SB119: Changes to pre-construction and construction privileges
SB124: Cross-References for Recodification of the Criminal Code
SB147: Utah Communications Authority Changes
SB148: Building Registry Changes
SB151: Advanced Practice Registered Nurses Compact
SB152: Changes to the Community Associations Regulation
SB154: Modifications for Naturopathic Physicians
SB155: Changes Relating to Trusteeship and Guardianship
SB164: Amendments to Solemnization of Marriage
SB171: Behavioral Health Training Program
SB173: Alarm System Modifications
SB176: Amendments to the Liquor Control Act
SB182: Digital Asset Changes
SB 195: Changes Related to Access to Medical Cannabis
SB201: Liquor Control Law Enforcement Fund
SB204: Automotive Modifications
SB213: Trade Name Prohibitions
SB214: Utah Broadband Center Advisory Board
SB232: Military Installations Development Authority Revisions
SB244: Ethnic Studies Changes
SB246: Statute of limitations for criminal conduct modifications
SB249: Changes to the Public Employee Health Program
SB251: Your Own Teacher and Counselor Development Pipeline Program
SB258: Changes to Rocky Mountain Center for Occupational and Environmental Health
SCR9: Simultaneous Resolution Honoring the Life and Achievements of Helen Foster Snow
The governor allowed a bill to become law without his signature:
HB146: Local License Changes
Download a copy of this press release here.
###