Delegation visits Empress buried in inner city parish cemetery – Catholic Philly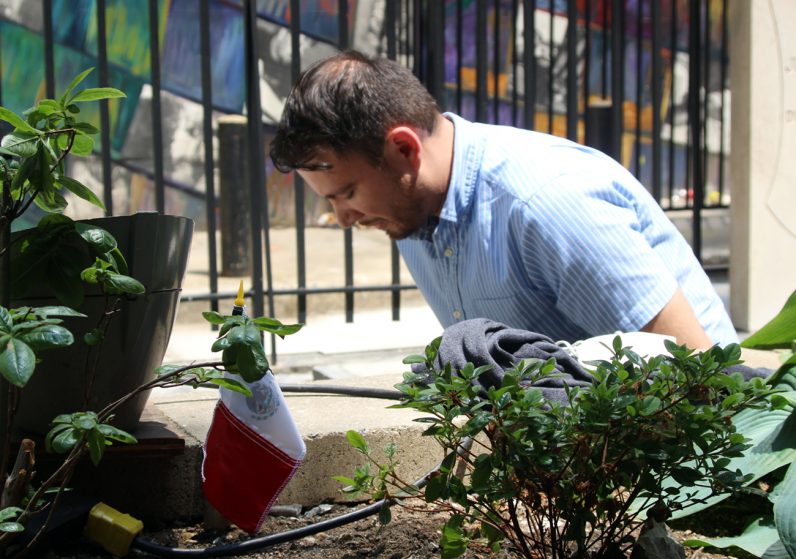 By Gina Christian • Posted on June 8, 2021
As Mexico celebrates its bicentenary, dignitaries from that country recently visited an archdiocesan parish to honor the graves of their exiled empress and her family.
Leticia López Landero, former Mexican MP and current Mayor of Cordoba, Veracruz, joined Mexican-American scholar Alberto Alejandre and others to pay tribute to Ana María Huarte de Iturbide, who, along with several descendants, is buried in the parish of Saint-Jean-l'Évangéliste. in downtown Philadelphia.
The monarch's husband, General Agustín de Iturbide, led Mexican forces in their war for independence from Spain, becoming emperor of the new nation in 1822. After a brief reign and period of exile in Europe, he was assassinated by political rivals in 1824.
His wife and children fled to the United States, and in the early 1830s the Empress arrived in Philadelphia, where she traded her royal lifestyle for a quiet devotional style as a parishioner of St. John's. . Upon her death in 1861, Iturbide was buried in the historic church cemetery, along with a number of her children and descendants.
During site visits on May 25 and 26, the Mexican delegation placed flowers and a small Mexican flag in front of the arch, marking an occasion that López Landero described as "something divine."
With Agustín de Iturbide as a signatory to the Cordoba Treaty of 1821 – by which Spain recognized Mexico's independence as part of the Iguala Plan – his wife's grave was "a sacred place," López Landero said.
Speaking in Spanish, the mayor of Cordoba said the Empress had shown herself to be "a woman of faith and courage" throughout her long years of widowhood and exile from her native land.
Coming to a country "so far and unknown" is a testament to her bravery, she said, adding that the sight of the Empress's tomb – thousands of miles from that of her husband in the Metropolitan Cathedral of Mexico City – was painful.
"The most important thing in our lives is family," said López Landero. "The history of Mexico is also the history of a family.
While some historians dismiss Emperor Agustín as a self-proclaimed ruler, Iturbide's legacy suffered "injustice," Alejandre said – something he and other scholars have sought to redress.
"For almost two centuries, many Mexicans have tried to claim not only the historical truth, but also (that of) the family, which has been so abused," he said.
Iturbide, who confessed, kissed the crucifix and sent his rosary to his wife before his execution, was buried in the habit of a Franciscan tertiary. Ana herself arranged for one of her husband's traitors – General Don Antonio Echávarri, himself deported to the United States – to receive the sacraments of the church a few hours before his death.
"We grew up knowing the real story and caring about it," said Alejandre. "I feel very moved to be able to contribute to a certain justice here, because Mexico is notoriously a country with so much injustice and inequality. A very famous Mexican author says that Iturbide, our first emperor, is also the first of our victims as a state.
Patriotic Mexicans and Mexican-Americans "have been coming to visit (the Empress's) tomb for 150 years," said Anne Kirkwood, archivist at St. John the Evangelist.
She admitted that the decision to relocate to Philadelphia – after migrating north from New Orleans, Washington, DC and Baltimore – remained "one of the lingering questions" about the Empress.
Despite a lack of specific information about her time in the city, the Empress found herself among a number of Latin American neighbors with a range of political perspectives during the Revolutionary Era. From the 1780s until the mid-19th century, these "Pan-Americans" significantly shaped the Catholic Church in Philadelphia and the emerging nation as a whole, according to historian Richard Warren of St. Joseph's University.
But the Empress herself "lived a very humble life," Kirkwood said.
With his pension suspended by the Mexican government, the former monarch sold his artwork and jewelry to make ends meet, while nevertheless building a reputation for his philanthropy.
"She was super generous to all Catholic charities, even though she had nothing," Kirkwood said.
And this largesse is perhaps the most enduring part of the Empress's legacy, said Capuchin Father Rafael Anguiano, a native of Mexico in residence at Saint John the Evangelist.
"She had very strong faith, and I think I can learn from that great faith that she had when she moved here," said Father Anguiano, whose hometown of León is three hours from his birthplace. of the Empress in Morelia.
The delegation's visit and the work of reclaiming Iturbide's legacy show that the Empress's story continues to unfold, López Landero said.
"There are no coincidences with God," she said.