A rabbi decided to sponsor a family of Afghan refugees. When he needed a helping hand, he brought in a mosque and a church. | Religion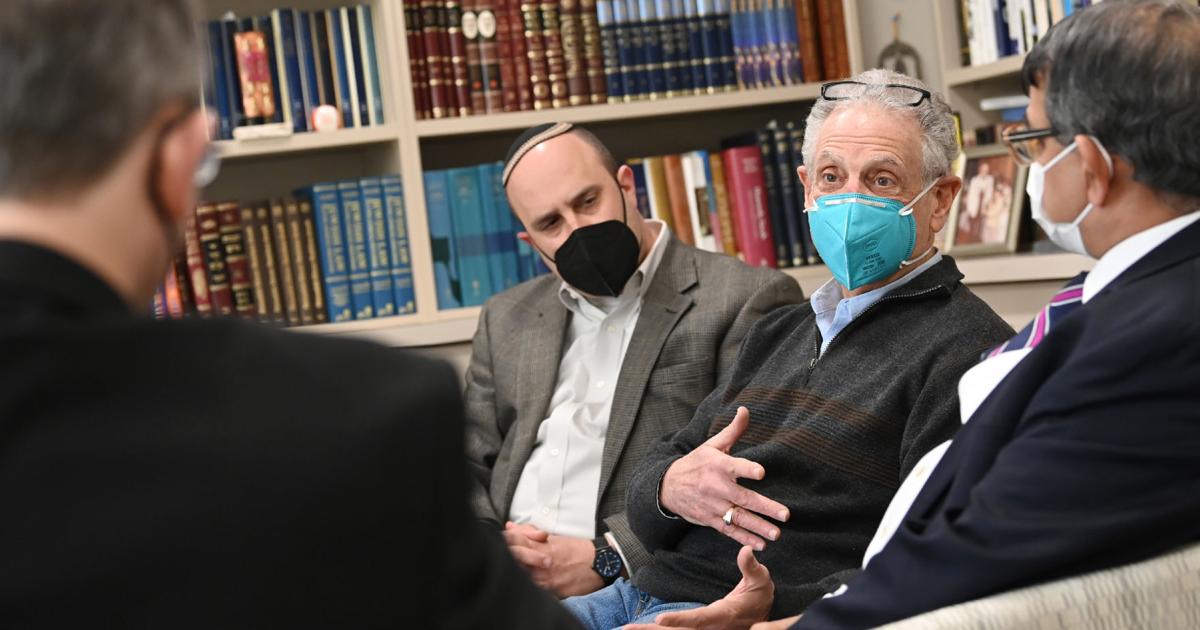 Adam Raskin, a rabbi from Congregation Har Shalom in Potomac knew how difficult the situation was for Afghan refugees in the Washington area.
Since the historic Kabul airlift last year, more than 3,700 Afghan evacuees have been resettled in the district, Maryland and Virginia, overwhelming social service agencies and leaving some refugee families waiting for housing and in limbo.
Raskin and his followers decided to help by sponsoring a refugee family.
"We thought it was very much in line with our values," Raskin said. "For Jews, many of whom were refugees from places of persecution, there is a special sensitivity to this issue."
When members of the congregation began researching the resettlement process, they quickly realized how complicated it can be and how many resources are required.
"We could do it on our own," Raskin recalls thinking to himself, "but wouldn't it be amazing to collaborate with a Christian and Muslim congregation?
His idea was to "show the family what kind of country they moved to".
"This is a country where religions don't have to disagree with each other, but religious communities collaborate and find common ground," Raskin said.
He contacted St. Francis Episcopal Church and the Islamic Community Center of Potomac to gauge their interest in an interfaith initiative, and both congregations were enthusiastic.
"We absolutely wanted to get involved," said Sultan Chowdhury, who was one of the founding members of the Islamic center and is currently its administrator. "God gave us the opportunity to really learn from each other. It's wonderful to see how close we are.
Kathy Herrmann, the parish life coordinator at St. Francis, agreed.
"I felt such a kinship with them and such warmth and love from the other two," she said. "We all have the same goal of helping this family settle in and feel the love we have for them."
The three places of worship collectively sponsored the Wahdats, an Afghan refugee family who resettled in College Park earlier this year.
The Wahdat family – a 36-year-old father, a 30-year-old mother and their 19-month-old daughter – were unable to participate in an interview with The Washington Post due to a language barrier. Before arriving in Maryland, the Pashto-speaking Wahdats were at Fort Dix, a US Army post near Trenton, New Jersey.
The congregations recruited volunteers to collaborate, including Stew Remer, who has been a member of Congregation Har Shalom since 1982 and led the effort.
"We have created an informal partnership where we work together to provide support to the family," Remer said. "It's amazing that we're doing this with other organizations."
He started by contacting various resettlement agencies to find out more about how to sponsor an Afghan family. He contacted the Outreach Center for Immigration and Refugees, which put him in touch with the Wahdats.
For the past month, the congregations have been dividing up the responsibilities to support the new arrivals. The church has taken on a health care advocacy role, identifying doctors and dentists willing to provide pro bono services to the family. The mosque, meanwhile, has helped with translation services and catered to cultural needs, such as providing traditional Afghan clothing. The synagogue arranged transportation, legal and financial support, as well as helping the family apply for food stamps and Medicaid.
"Everyone is thinking, strategizing and discussing the contacts and leads they have," Raskin said. "It was an outpouring of effort and generosity from all three congregations."
The family is waiting for work authorization and social security cards, Remer said. The next steps will be to help the Wahdats enroll in English classes, find job opportunities and eventually enroll their daughter in school.
Although each place of worship took on separate duties, they all raised funds within their respective communities, raising hundreds of dollars in gift cards for the family. Congregations have scheduled regular meetings to discuss how the Wahdats are coping and to determine what other supports are needed along the way. They also plan to start a card-making project for children and teenagers from the three faith groups to write letters of welcome to Afghan families.
Remer, who has visited the Wahdats several times in their one-bedroom apartment, said they were deeply touched by the interfaith effort as they transitioned into their new life in America.
"Every time we brought something to their apartment to help furnish it, or gave them clothes or clothes for their daughter, or took them shopping with the gift cards we had for them provided, the father was very grateful to us," said Remer. "I remember he put his hand over his heart and nodded."
The Wahdats are just three of more than 124,000 civilians who were evacuated from Afghanistan after the Taliban seized power in August. At the end of December, 25,000 Afghan refugees were still living in American military installations.
Sasha Chanoff, chief executive and founder of the nonprofit RefugePoint, said there was a critical need for more support as resettlement agencies struggle to manage the influx of Afghans.
People are stepping up to fill the void, thanks in part to an effort the State Department launched in October called the Sponsor Circle program, which recruits families and other volunteers willing to help Afghan refugees secure homes. , jobs and other forms of support.
The volunteer sponsor circles serve as a "main anchor" in the lives of Afghan families, said Chanoff, who is one of the program's main partners. Although the three religious congregations are not technically a circle of sponsors, their efforts are similar.
"It's so cool to hear that a mosque, a church and a synagogue are coming together to do this," Chanoff said. "That kind of engagement can help soften America's very polarized stance on immigration and refugees in some way."
Christianity, Islam, and Judaism are all considered Abrahamic religions that regard Abraham, a prophet, as the patriarch of their faith. The Bible highlights Abraham's hospitality and willingness to welcome strangers.
"Perhaps this is the original connection between Judaism, Christianity and Islam," Raskin said. "We kind of live that legacy by collaborating in that way. I think the fact that we're doing this together is a great example of what the best this country can be.
"We had the privilege of being together, trying to understand each other better and spreading peace," Chowdhury said. "It's a revelation for all of us, and it's a blessing."
"This is not a short-term project. We're in it for the long haul," Herrmann said, adding that congregations plan to continue interfaith collaborations.
"I felt we're not even different communities," she said. "We are one."